Fashion
How Rick Owens reinvented footwear
On the American designer's birthday month, L'Officiel looks at Owens' ongoing impact in the realm of high fashion shoes.
Rick Owens' deconstructed design aesthetic begs for virality, even if it's the designer's last intention. From his namesake label's start in Los Angeles to leaving a mark from its Paris base today, Owens never fails to provide fresh ideas on the runway, with highly-anticipated spectacles each fashion week. Known for memorably accessorizing models with other models and casting step dancers in a move that departed from the waif-thin models that usually dominate shows, the designer's creative vision knows no bounds. And amidst these bold moves, a more subtle impact was at play–accompanying Owens' dark fantasy fashions is a legacy of footwear.
Left: Rick Owens Spring/Summer 2016. Right: Spring/Summer 2014.
If his futuristically grungy clothing presents the unexpected with their unique silhouettes, then his shoes break the same barriers. Since his brand's New York Fashion Week debut in 2002, Owens has been at the forefront of anti-fashion, underscored by footwear that varies from minimalist sneakers to ultra-chunky sandals that beat Yeezy in the fashion cycle by several seasons. Perhaps most prominent among his footwear contributions are boots. Owens made the ever-popular over-the-knee-boot cool long before fashion girls started sporting the style. Influenced by his post-apocalyptic rock 'n' roll style, Owens' signature sky-high platform Kiss boot—with variations including chunky, lucite heels and grills—are unique not only in their design but their gender-breaking intentions, seen on the likes of Luka Sabbat and fashion duo Fecal Matter.
While many of Owens' in-house styles cater towards more experimental fashion enthusiasts, his collaborations have gathered a different but equally enthusiastic fan base. Fostering a four-year partnership with Adidas, Owens' became a favorite among sneakerheads with drops that gathered elements from his more athletic high-tops and rubber sole sock boots, bringing elements of high fashion into the streetwear community.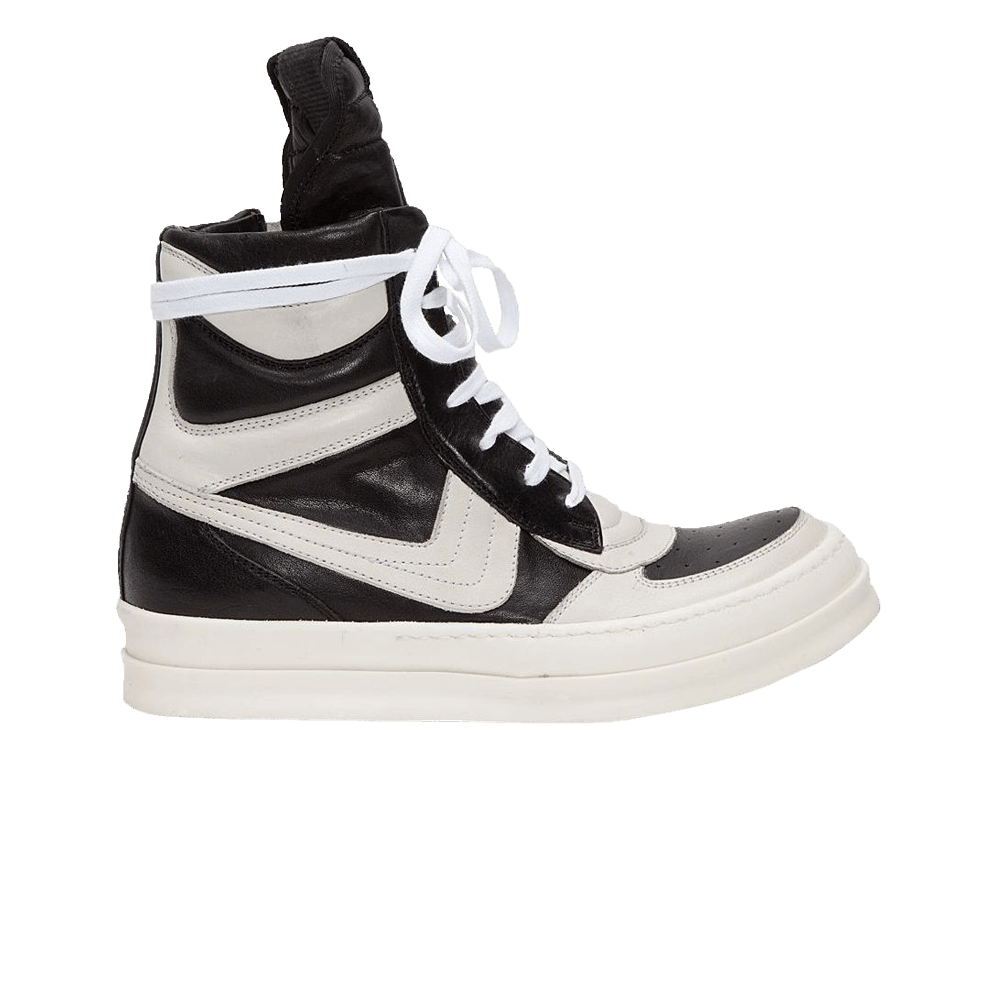 The designer has also been known to play on iconic sneaker styles, coopting recognizable elements for his own footwear. With resale value hitting a few thousand dollars, the Rick Owens Geobaskets (also known as Dunks) are among the designer's most notable upgraded dupes. First debuted in his Fall/Winter 2006 collection, the black and white leather hightops bear a resemblance to Nike's Airforce 1s, complete with a swoosh-like check on the side. The reference was obvious enough for Nike to allegedly send a cease-and-desist to Owens, who subsequently redesigned the Geobaskets to have a triangle marking instead. Owens also introduced the Ramones, a toe-capped leather hightop that is inspired by Converse's Chuck Taylors. Playing on already ubiquitous footwear, Owens inverted the usual high fashion knockoffs and instead elevated everyday styles through his designer shoes.
Other labels have given Owens the creative liberty to remix their signature footwear. Now in the third year of a fruitful collaboration with Birkenstock, the designer will launch his own take on the shoe brand's Arizona and Boston sandals in spring 2021. Owens also has a three-year partnership with sneaker label Veja, recently launching a joint capsule of sneaker-sock styles. The designer was drawn to the collaboration because of Veja's commitment to sustainability. The collaboration with the French footwear brand was a slow, intentional process, melding elements of his design choices with the brand's organic, recycled materials.
Throughout his decades at the forefront of fashion, Owens has developed a distinct style which he seamlessly translates to footwear. Whether with commercially successful collaborations or avant garde creations that challenge traditional notions of fashion, he's made shoes a part of his signature one step at a time.